Enhance your website with a Web-Based CRM system to improve Customer Relationships
In today's digital age, it is important for businesses to have a strong online presence.
To ensure that customers have a positive experience and build long-term relationships, an integrated web based Customer Relationship Management (CRM) system can be an invaluable asset.
The WOW Adventure Ltd will provide an introduction to CRMs and examine the features, benefits, and how to get started on implementing one for your remote workers.
We will also discuss how using a web-based CRM can help improve customer relationships while increasing efficiency within your organization.
If you'd like to talk further regarding web based CRM systems for remote workers and teams, then please complete the following details:
Introduction to Integrated Web Based Customer Relationship Management
The world of customer relationship management (CRM) is rapidly transitioning from traditional, single-platform solutions to integrated, web-based CRMs that are capable of digitalizing the entire customer experience.
Web-based CRM systems offer features such as contact databases, lead tracking, marketing automation and activity logging which can help businesses analyse customer behaviour patterns and customise their services accordingly.
The WOW Adventure will introduce you to the concept of Integrated Web Based Customer Relationship Management – a holistic solution that businesses can use to improve relationships with their customers.
What is a Web-Based CRM?
A web-based CRM, or customer relationship management system, is an online platform that businesses use to manage and track customer interactions. It's designed to keep track of all kinds of interactions, from inquiries and sales, to customer service and after-sales support.
It enables businesses to personalize their customer relationships, automate marketing campaigns and follow up with customers quickly and efficiently.
With a web-based CRM in place, businesses can record all their customer information in one centralized platform. This makes it easier for them to identify customers' needs and provide better service overall.
Features of a Web-Based CRM System
A web-based CRM system can help enhance your website and improve customer relationships. It offers many features that allow you to customize your customer experience, track customer data, and access real-time insights.
You can send targeted emails to customers based on their needs and interests, facilitate interactions with customers through email. You can also use virtual email marketing assistants for automated customer service tasks and more.
With a web-based CRM, you also have the ability to create detailed reports about customer behaviour on your website. You will be able to measure key performance metrics for monitoring success of campaigns or marketing strategy implementations.
Benefits of implementing a Web-Based CRM System integrated with your websites forms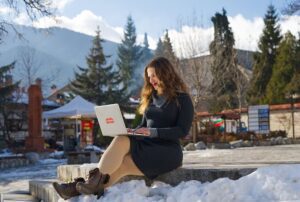 Implementing a web-based CRM system integrated with your website's forms can be a powerful tool to improve customer relationships.
By integrating the two, you will have an automated way to collect and store important customer data. Such as contact and shipping information, as well as purchase histories. This will allow you to better personalize customer service and build long-term relationships.
With access to detailed analytics like customers' geographical locations and buying patterns, you'll be able to create smarter marketing campaigns that target customers more effectively.
Additionally, it can help speed up processes by reducing manual data input and improving response times when responding to customer inquiries or solving problems.
Ultimately, having a web-based CRM integrated with your website's forms helps create stronger customer loyalty and boost customer "happiness levels".
How to get started with a Web-Based CRM system for Remote Workers
Getting started with a web-based CRM for remote workers can be an easy and effective way to improve customer relationships. Firstly, decide on the goals you want to accomplish with your CRM system before reaching out the best CRM solution provider for your business.
The features of the CRM should match up with the objectives you've identified. Once you have chosen a suitable system, The WOW Adventure understand how it works and will set it up according to your instructions.
Last but not least, we will ensure that all of your remote workers are adequately trained in using the system as efficient use of this tool is what will ultimately enhance customer relationships.
With these steps, you will be well on your way to reaping the benefits of a web-based Customer Relationship Management for remote workers.
Conclusions drawn on Web Integrated CRM for a remote workforce
A web-integrated CRM solution offers many advantages for businesses with remote workers. They provide access to customer information quickly, easily and securely from anywhere in the world and enable businesses to remain competitive in today's global market.
Want to know more about The WOW Adventure's information solutions:
Web-based CRMs also allow for better collaboration, communication and improved customer relationships. With a web integrated CRM solution, businesses can increase their visibility, improve customer loyalty and reduce employee fatigue from excess data entry or manual labour.
The benefits of implementing a web-based CRM make it a smart choice for companies interested in streamlining workflow processes and improving customer relationships.