Streamlining your workflows with Web-Based Project Management Solutions for remote workers
Are you looking for ways to streamline your workflows to manage your teams of remote workers? With the help of web-based project management solutions, you can create an efficient workflow and make it easier to collaborate on projects.
The WOW Adventure are seasoned professionals in Project Management solutions and will provide a detailed overview of web-based project management solutions, as well as their benefits and features.
We will also talk about how these solutions can allow teams to work remotely and why they are beneficial.
Finally, we'll discuss how you can use web-based solutions to create a more efficient workflow for your company or project.
Whether you're just getting started with remote working or already have some experience under your belt; this webpage is sure to provide valuable insights into streamlining your workflows with web-based project management tools.
If you'd like to talk further regarding web based Project Management solutions for remote workers and teams, then please complete the following details:
Introduction to web based Project Management solutions
Are you feeling overwhelmed by multiple projects, deadlines and competing priorities? Do you need help streamlining your workflow and increasing efficiency?
Web-based project management solutions offer a great way to stay organized, plan ahead and maximize the effectiveness of your workflows. The WOW Adventure Ltd will provide you with an introduction to web based project management, highlighting some of its key features and benefits.
We'll cover why web-based solutions are advantageous over traditional methods, as well as tips for getting started with these efficient systems.
By reading to the end of this webpage, you'll have a better understanding of how web-based project management can help make your remote working business life easier!
Benefits of Web-Based Project Management solutions
Web-based project management solutions are becoming increasingly popular among businesses as they offer a variety of benefits. These include improved organization and visibility, enabling team members to better collaborate with each other and providing the ability to track milestones, tasks, and deadlines.
Additionally, these solutions can provide real-time alerts with updates when tasks are completed or delayed, allowing managers to stay on top of projects with minimal effort.
With web-based project management solutions in place, companies can streamline their workflows by gathering all information in one spot for better communication between stakeholders.
Why use a Web-Based solution?
Web-based solutions can provide a great deal of value when it comes to streamlining workflows. They offer the convenience of being available from any computer, tablet or smartphone with internet access, and are often more cost-effective than traditional software solutions.
Web-based solutions can be easily customized to fit the needs of individual projects and teams, providing an efficient way to coordinate tasks among different stakeholders regardless of their location.
Additionally, web-based solutions allow for real-time collaboration between users and are generally easier to learn than other software applications.
Whether you need an intuitive platform that allows for effective task management and project tracking or an online storage system for documents and other shared resources, a web-based solution can help you reach your goals quickly and effectively.
Understanding the features of a Web-Based Solution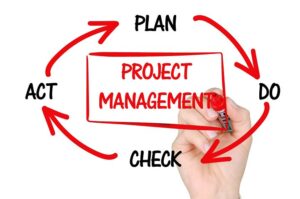 Web-based project management solutions are an invaluable tool for streamlining workflows and ensuring that tasks are completed efficiently. A web-based solution offers a range of features that make it easier to manage projects and maximize productivity.
Some key features include customizable dashboard views, the ability to assign tasks and track progress in real-time, access from any device with an internet connection, comprehensive reports and analytics to monitor performance, easy data sharing capabilities between team members, automated reminders for deadlines, multiple user roles for managing different aspects of the project, integration with other tools such as CRM systems or payment processors, and more.
With this vast array of features available through a web-based solution, there's no better way to streamline your workflows and ensure efficient completion of projects.
Creating a more efficient Workflow with Web-Based solutions
The key to achieving a more efficient workflow is utilizing web-based project management solutions. These solutions are designed to streamline your processes, helping you and your team work together more effectively and efficiently.
By coordinating all of the activities of a project in one place, you can easily access information, assign tasks and collaborate with other people involved in the project.
Additionally, web-based project management services provide features such as task scheduling, notifications for assignments and deadlines, integration with other software systems and mobile device access. This allows for greater flexibility which leads to increased productivity and boosted morale.
Ultimately, leveraging the power of web-based solutions can help to make sure your workflow is successful and productive.
Concluding on web-based Project Management for Remote Working Teams
Web-based project management solutions are a great tool for streamlining remote working teams. With the integration of collaboration tools and professional organization capabilities, project managers can be certain that their workflows will be operating efficiently and at optimal productivity levels.
Want to know more about The WOW Adventure's information solutions:
Additionally, by utilizing web-based project management platforms, remote working teams can also benefit from increased communication, improved visibility of projects and tasks; as well as an overall sense of connectedness to colleagues who are in different locations around the world.
By taking advantage of these innovative technologies, businesses and organizations have an effective way to manage their workflow with ease.